PTU® (Process Training Unit)
This ultimate hands-on training experience simulates real process conditions
What makes Endress+Hauser unique is our PTU (Process Training Unit). Our PTU is a full scale, working process skid, with on-line instrumentation and controls. You gain hands-on experience with the types of operation, diagnostics and troubleshooting found in real-life process plants. This goes beyond what classroom-only style training can provide. Our "mini process plant" features Endress+Hauser instruments integrated with the PlantPAx process automation system from Rockwell Automation.
Benefits
Gain hands-on experience in our PTU® (Process Training Unit) - full-scale working mini-process plants with on-line instrumentation and controls. Find courses covering flow, level, pressure, temperature, analytics, system components and more!

Work with us to construct customized training programs.

Experience unique courses built from our 60 years of instrumentation experience across a wide range of industries.
Versatile courses based on your needs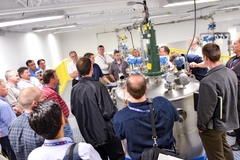 In our training courses, you will learn the application, installation, operation and diagnostic procedures related to many types of process instrumentation and control processes. Various communication protocols are fully operational, including: EtherNet/IPTM, HART®, PROFIBUS® PA, and FOUNDATIONTM Fieldbus. The PTU® has a 'wow' factor that puts our words into action, and clearly demonstrates our investments, capabilities and synergy with Rockwell Automation.