Minilog B, RDL10
Data Logger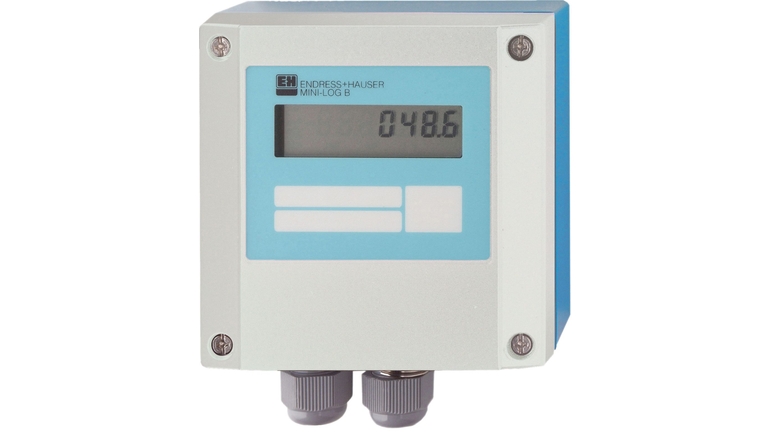 Data logger for display and storing measured values from an analog and digital input
Data logger for stand-alone applications. The Minilog B is used to display and record measured data from an analog and digital input signal. It can be applied where a compact data logger is needed. In addition to data storage the data logger also monitors two set points. Violation of these set values are indicated in the display. Additionally it is possible to transmit a message to a computer or mobile phone using the telephone network or wireless modem (Tele-alarm option).
Quick selection
Choose from our suggested options
Individual configuration
Continue your selection from all possible options
Benefits

Sensor connections using 0/4 to 20 mA, 0 to 1 V or Pt100, as well as potential free contact for event or count impulses

Instantaneous value or min-, max-, average value recording

Storage of up to 64,000 measured values include date and time

Presettable...
Field of application

Data storage for temperature, humidity, pressure, flow, level and analysis values

Temperature monitoring: Store temperatures and transport temperature measurement

Operation time recording

Access monitoring

Piece part and quantity recording

Quantity...
Documents / Manuals / Software
Accessories / Spare parts
Housing cover cpl. neutral

Terminal P.C.B. with battery 3,6V/2,1Ah

Terminal PCB for ext. power supply 7-30VDC w/o battery

Terminal P.C.B w/o battery 3,6V/7,2Ah

CPU board 32KBit memory+tele-alarm soft

CPU board 128kBit memory+tele-alarm soft

Temperature sensor (with manual)

Battery lithium 3.6V 2,1Ah Size AA

up to unit no. 3W506999

Interface cable without software

Battery lithium 3.6V 2,1Ah Size AA

from unit no. 3W507000

Interface cable for Modem + adapter

Mounting bracket/pipe mounting/complete

Mounting bracket cpl. for wall mounting

Accessories Datamanager RXU10

Adapter set for connection of 2 Minilog to one modem incl. cable