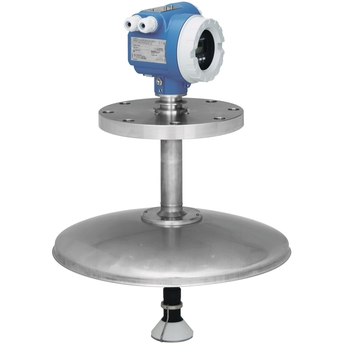 This product is no longer available.
Please check new generation in the section predecessor / successor or contact your local Endress+Hauser entity.
Successor

Continuous and non-contact level measurement in liquids. For custody transfer and inventory control applications with NMi- and PTB-approvals. Horn antenna is designed for all small nozzles sizes.
Characteristic / Application

Characteristic / Application

Accuracy

+/- 1 mm, custody transfer

Ambient temperature

Standard:
-40 °C ... 80 °C
(-40 °F ... 176 °F)
For calibration to regulatory standards:
-25 °C ... 60 °C
(-13 °F ... 131 °F)

Process temperature

-40 °C ... 200 °C
(-40 °F ... 392 °F)

Process pressure / max. overpressure limit

Vacuum ... 16 bar
(Vacuum ... 232 psi)

Process connection

DN150 ... DN250 / 6" ... 10"

Max. measurement distance

Max. measurement distance

Certificates / Approvals

ATEX, FM, CSA, IEC Ex, NEPSI
68 documents
Technical Information (TI)

Tankvision NXA820, NXA821, NXA822

Technical Information (TI)

English version - 04/2008

New version available in English

Inventory Management System with completely integrated software for operation via standard web browser

| | |
| --- | --- |
| Language: | English |
| Version: | 03/04/2008 |
| File size: | 2.7 MB |
| File name: | TI419FEN_05.08.pdf |

Technical Information (TI)

Micropilot S FMR530 Technical Information

Technical Information (TI)

English version - 12/2016

New version available in English

Level-Radar Continuous level transmitter for continuous and non-contact precision level measurement. For custody transfer andinventory control applicationswith NMi- and PTB-approvals.

| | | | |
| --- | --- | --- | --- |
| | EN | | |
| | | | |
| | | | |
| | | | |
| | | | |
| | | | |

| | |
| --- | --- |
| Language: | English |
| Version: | 09/12/2016 |
| File size: | 954.1 KB |
| File name: | TI00344FEN_1616.pdf |

Technical Information (TI)

Technical Information Micropilot S FMR533 Level-Radar

Technical Information (TI)

English version - 12/2016

New version available in English

Level transmitterfor continuous and non-contact precision level measurement For custody transfer and inventory control applications with NMi- andPTB-approvals.

| | | | |
| --- | --- | --- | --- |
| | EN | | |
| | | | |
| | | | |
| | | | |
| | | | |

| | |
| --- | --- |
| Language: | English |
| Version: | 09/12/2016 |
| File size: | 1 MB |
| File name: | TI01123FEN_0416.pdf |

Operating Instruction (BA)

Micropilot S FMR530, FMR531, FMR532, FMR533 HART Description of Instrument Functions

Operating Instruction (BA)

English version - 02/2014

New version available in English

Smart Transmitter for continuous and non-contact precision level measurement For custody transfer and inventory control applications with NMi- and PTB-approvals

| | | | |
| --- | --- | --- | --- |
| | EN | | |
| | | | |
| | | | |
| | | | |
| | | | |

| | |
| --- | --- |
| Language: | English |
| Version: | 07/02/2014 |
| File size: | 2.9 MB |
| File name: | BA00217FEN_1313.pdf |

Operating Instruction (BA)

Micropilot S FMR533 HART Operating Instructions

Operating Instruction (BA)

English version - 02/2014

New version available in English

Level-Radar Continuous level transmitter for continuous and non-contact precision level measurement. For custody transfer andinventory control applications with NMi- and PTB-approvals.

| | | | |
| --- | --- | --- | --- |
| | EN | | |
| | | | |
| | | | |
| | | | |
| | | | |
| | | | |

| | |
| --- | --- |
| Language: | English |
| Version: | 07/02/2014 |
| File size: | 4.4 MB |
| File name: | BA00209FEN_1413.pdf |

Micropilot S FMR533 HART Brief Operating Instructions

English version - 02/2014

New version available in English

Level-Radar Continuous level transmitter for continuous and non-contact precision level measurement. For custody transfer andinventory control applications with NMi- and PTB-approvals.

| | |
| --- | --- |
| Language: | English |
| Version: | 07/02/2014 |
| File size: | 1.6 MB |
| File name: | KA01058FEN_1313.pdf |

Exchange of parabolic antenna on Micropilot S FMR533

English version - 04/2012

New version available in English

Exchange of parabolic antenna on Micropilot S FMR533

| | |
| --- | --- |
| Language: | English |
| Version: | 24/04/2012 |
| File size: | 639.5 KB |
| File name: | KA00565FA2_0502.pdf |

Bedienungsanleitung/ Operating Instuction Micropilot S Kurzanleitung.

English version - 12/2000

New version available in English

Bedienungsanleitung/ Operating Instuction Micropilot S Kurzanleitung.

| | |
| --- | --- |
| Language: | English |
| Version: | 01/12/2000 |
| File size: | 716.8 KB |
| File name: | KA161FA2.PDF |

Micropilot S - sealing set

English version - 04/2021

New version available in English

Micropilot S - sealing set

| | |
| --- | --- |
| Language: | English |
| Version: | 15/04/2021 |
| File size: | 19.1 KB |
| File name: | KA00558F00_A2.pdf |

Installation instruction - electronics, terminal module

English version - 05/2015

New version available in English

Mircropilot S

| | |
| --- | --- |
| Language: | English |
| Version: | 13/05/2015 |
| File size: | 1.1 MB |
| File name: | KA560F-a2.pdf |

Micropilot S - exchange of housing T12

English version - 04/2021

New version available in English

Micropilot S - exchange of housingT12

| | |
| --- | --- |
| Language: | English |
| Version: | 15/04/2021 |
| File size: | 567.9 KB |
| File name: | KA00559F00_A2.pdf |

Weather protection cover Mounting Instruction

English version - 06/2007

New version available in English

Weather protection cover for devices with F12/T12/F23 housing.

| | |
| --- | --- |
| Language: | English |
| Version: | 27/06/2007 |
| File size: | 235.5 KB |
| File name: | KA137Fa6_0607.pdf |

Installation Instructions (EA)

Cable separate version Installation Instructions

Installation Instructions (EA)

English version - 01/2018

New version available in English

Cerabar M, Cerabar S, Deltabar S, Deltapilot M, Deltapilot S

| | |
| --- | --- |
| Language: | English |
| Version: | 31/01/2018 |
| File size: | 561.4 KB |
| File name: | EA01241FA2_0118.pdf |

Ex Safety Instruction (XA)

Micropilot S FMR532, FMR540

Ex Safety Instruction (XA)

English version - 04/2021

New version available in English

4-20 mA HART Ex ia IIC T6...T1 Ga/Gb

| | | | |
| --- | --- | --- | --- |
| | EN | | |
| | | | |
| | | | |
| | | | |

| | |
| --- | --- |
| Language: | English |
| Version: | 05/04/2021 |
| File size: | 514.8 KB |
| File name: | XA00579FEN_0320.pdf |

Ex Safety Instruction (XA)

Micropilot S FMR530/531/532/533

Ex Safety Instruction (XA)

English version - 03/2011

New version available in English

CSA Control drawing 960397-2045 C

| | |
| --- | --- |
| Language: | English |
| Version: | 01/03/2011 |
| File size: | 71.9 KB |
| File name: | XA00540FEN_1311.pdf |

Ex Safety Instruction (XA)

Safety Instructions Micropilot S FMR530, FMR532, FMR533, FMR540

Ex Safety Instruction (XA)

English version - 04/2016

New version available in English

II 3 G Ex nA IIC T6 Gc EG 01 026

| | | | |
| --- | --- | --- | --- |
| | EN | | |
| | | | |
| | | | |
| | | | |
| | | | |

| | |
| --- | --- |
| Language: | English |
| Version: | 13/04/2016 |
| File size: | 980.7 KB |
| File name: | XA00231FA3_1416.pdf |

Ex Safety Instruction (XA)

Micropilot S FMR530, FMR531, FMR532, FMR533

Ex Safety Instruction (XA)

English version - 12/2010

New version available in English

HART FM Drawing No.: 960397-1045 F Drawing Type: Control drawing

| | |
| --- | --- |
| Language: | English |
| Version: | 31/12/2010 |
| File size: | 68.2 KB |
| File name: | XA00555FEN_1310.pdf |

Ex Safety Instruction (XA)

Micropilot S FMR532, FMR540

Ex Safety Instruction (XA)

English version - 08/2021

New version available in English

4-20 mA HART ATEX: II 1/2 G Ex ia IIC T6...T1 Ga/Gb IECEx: Ex ia IIC T6...T1 Ga/Gb

| | | | |
| --- | --- | --- | --- |
| | EN | | |
| | | | |
| | | | |
| | | | |
| | | | |

| | |
| --- | --- |
| Language: | English |
| Version: | 02/08/2021 |
| File size: | 414.2 KB |
| File name: | XA00081FEN_1420.pdf |

PTB Bauartzulassung Micropilot S FMR530, FMR531, FMR532, FMR533

German version - 12/2015

New version available in English

4.413 01.06

| | |
| --- | --- |
| Language: | German |
| Version: | 04/12/2015 |
| File size: | 3 MB |
| File name: | ZE00246FDE_1315.pdf |

Micropilot S FMR530, FMR531, FMR532, FMR533

English version - 03/2001

New version available in English

NMi CVN/10124773/01

| | |
| --- | --- |
| Language: | English |
| Version: | 01/03/2001 |
| File size: | 170.8 KB |
| File name: | ZE241FEN.PDF |

Micropilot S FMR530, FMR532, FMR533, FMR540

German version - 06/2016

New version available in English

Allgemeine bauaufsichtliche Zulassung Z-65.16-300 (DIBt)

| | | | |
| --- | --- | --- | --- |
| | EN | | |
| | | | |
| | | | |
| | | | |
| | | | |
| | | | |

| | |
| --- | --- |
| Language: | German |
| Version: | 02/06/2016 |
| File size: | 1.8 MB |
| File name: | ZE00243FDE_1416.pdf |

Micropilot S FMR530, FMR531, FMR532, FMR533

English version - 12/2016

New version available in English

NMi Type approval certificate T7480 Revision 4

| | | | |
| --- | --- | --- | --- |
| | EN | | |
| | | | |
| | | | |
| | | | |
| | | | |

| | |
| --- | --- |
| Language: | English |
| Version: | 07/12/2016 |
| File size: | 4.7 MB |
| File name: | ZE00240FEN_1316.pdf |

Micropilot S FMR530, FMR531, FMR532, FMR533

English version - 05/2007

New version available in English

HART FM Drawing No.: 960397-1045 E Drawing Type: Control drawing

| | |
| --- | --- |
| Language: | English |
| Version: | 01/05/2007 |
| File size: | 70 KB |
| File name: | ZD065FEN_0507.pdf |

Japanese version - 07/2002

New version available in English

TIIS Drawing No.: 960397/Ex401-433A Drawing Type: System structure

| | |
| --- | --- |
| Language: | Japanese |
| Version: | 01/07/2002 |
| File size: | 608.2 KB |
| File name: | ZD094FJA_0702.pdf |

Japanese version - 07/2002

New version available in English

TIIS Drawing No.: 960397/Ex401-433B Drawing Type: System structure

| | |
| --- | --- |
| Language: | Japanese |
| Version: | 01/07/2002 |
| File size: | 616.4 KB |
| File name: | ZD095FJA_0702.pdf |

Micropilot S FMR530/531/532/533

English version - 03/2001

New version available in English

CSA 960397-2045 A Control drawing HART

| | |
| --- | --- |
| Language: | English |
| Version: | 01/03/2001 |
| File size: | 70.9 KB |
| File name: | ZD073FEN.PDF |

Special Documentation (SD)

Alignment of the housing

Special Documentation (SD)

English version - 05/2016

New version available in English

Alignment of the housing

| | |
| --- | --- |
| Language: | English |
| Version: | 30/05/2016 |
| File size: | 1.6 MB |
| File name: | SD01258FA3_0216.pdf |

Special Documentation (SD)

Micropilot M FMR230, FMR231, FMR240, FMR244, FMR245, FMR250 Micropilot S FMR530, FMR532, FMR533, FMR540 Hinweis zur Montage

Special Documentation (SD)

English version - 05/2001

New version available in English

Füllstand-Radar für Flüssigkeiten und Schüttgüter

| | |
| --- | --- |
| Language: | English |
| Version: | 25/05/2001 |
| File size: | 432 KB |
| File name: | SD109Fc6_0801.pdf |

Special Documentation (SD)

Tank Side Monitor NRF590 Micropilot S FMR53x, FMR540

Special Documentation (SD)

English version - 10/2009

New version available in English

Sealing of the Tank Side Monitor NRF590 and the Micropilot S FMR53x/FMR540

| | |
| --- | --- |
| Language: | English |
| Version: | 21/10/2009 |
| File size: | 423 KB |
| File name: | SD277FEN_1009.pdf |

Special Documentation (SD)

Micropilot S FMR530/532/533, FMR540 Functional Safety Manual

Special Documentation (SD)

English version - 07/2018

New version available in English

Level-Radar with 4 to 20 mA Output Signal

| | | | |
| --- | --- | --- | --- |
| | EN | | |
| | | | |
| | | | |
| | | | |

| | |
| --- | --- |
| Language: | English |
| Version: | 27/07/2018 |
| File size: | 1022 KB |
| File name: | SD00345FEN_0318.pdf |

Manufacturer Information (MI)

Micropilot S FMR53x Manufacturer Information for users regarding software updates (NE53)

Manufacturer Information (MI)

English version - 11/2009

New version available in English

Software version V01.03.00

| | |
| --- | --- |
| Language: | English |
| Version: | 13/11/2009 |
| File size: | 63.5 KB |
| File name: | MI01029FEN_1109.pdf |

Fields of Activities (FA)

Level measurement

Fields of Activities (FA)

English version - 10/2022

New version available in English

Product overview for applications in liquids and bulk solids

| | |
| --- | --- |
| Language: | English |
| Version: | 14/10/2022 |
| File size: | 30.3 MB |
| File name: | FA00001F00EN2522.pdf |

Product family: Micropilot S

Chinese version - 03/2017

New version available in English

Product root: FMR533- Declaration number: HE_00603_01.17 Manufacturer specification: RoHS

| | |
| --- | --- |
| Language: | Chinese |
| Version: | 31/03/2017 |
| File size: | 138.5 KB |
| File name: | HE-00603_01.17_China-RoHS_Micropilot_S_FMR533.pdf |

Product family: Micropilot S

Chinese version - 08/2017

New version available in English

Product root: FMR533- Declaration number: HE_00834_01.17 Manufacturer specification: RoHS Additional information: China-RoHS

| | |
| --- | --- |
| Language: | Chinese |
| Version: | 25/08/2017 |
| File size: | 138.8 KB |
| File name: | HE_00834_01.17_China-RoHS_Micropilot_S_OMR533.pdf |

Product family: Cerabar, Cerabar M, Cerabar S, Levelflex, Micropilot, Micropilot S

English version - 06/2019

New version available in English

Product root: FMP50-, FMP51-, FMP52-, FMP53-, FMP54-, FMP55-, FMP56-, FMP57-, FMR50-, FMR51-, FMR52-, FMR53-, FMR530-, FMR531-, FMR532-, FMR533-, FMR54-, FMR540-, FMR56-, FMR57-, FMR60-, FMR62-, FMR67-, PMC11-, PMC21-, PMC71B-, PMP11-, PMP21-, PMP23-, PMP51-, PMP51B-, PMP55-, PMP71-, PMP71B-, PMP72-, PMP75- Declaration number: HE_01158_01.19 Additional information: China,GB 4806, National Food Safety Standard